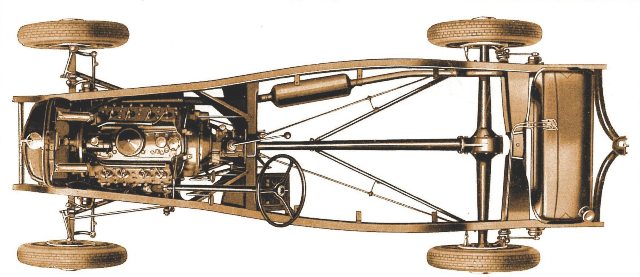 1932 FORD MODEL B/18 CHASSIS (FRAME)
Rather than just a much updated version of the Model A Ford launched a completely new model for 1932.
The V-8 was marketed as the Model 18 in its initial year, and commonly simply called the Ford V‑8. The Model 18 was the first low-priced, mass-marketed car to have a V8 engine, an important milestone in the auto industry in the US.
The 221 cu in (3.6 l) V8 was rated at 65 hp (48 KW) when introduced, but power increased significantly with improvements to the carburetor and ignition in later years. This engine choice was more popular than the four-cylinder, which was essentially a variant of the Model A engine with improvements to balancing and lubrication.
Ford produced two cars in 1932: the Model B, Model 18. These succeeded the model A, the Model B continued to offer Ford's proven four cylinder and was available from 1932 to 1934. The Model 18 was the first Ford fitted with the flathead V8.
In Europe, it was built slightly longer, the same bodies were available on both 4 cylinder Model B's and V8 Model 18.
The company also replaced the Model AA truck with the Model BB, available with either the four- or eight-cylinder engine.